Opening Hours:
Holz Ruser GmbH & Co. KG
Kleine Heide 2 | 24619 Bornhöved
Fon.: +49 (0)4323 905 – 0
mail: info@holzruser.de
Opening Hours Office:
Monday – Thursday: 05.30 am – 16.00 pm
Friday: 05.30 am – 14.45 pm
Loading:
Monday – Thursday: 06.00 am – 15.30 pm
Friday: 06.00 am – 14.15 pm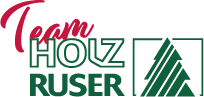 Become a member of the Holz Ruser family!
We are nice people and we are looking for nice people to work with us.
Holz Ruser understood itself as a big family, and we all would be delighted to welcome you as our newest family member.
No matter whether as an apprentice or trainee or as completely skilled employee - Holz Ruser offers a rock-solid Job at one of the most innovative sawmills in Europe.